Mother Teresa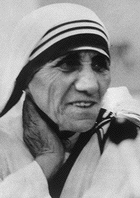 The Personality of January
Agnes Gonxha Bojaxhiu was born on August 27, 1910 in Skopje, Macedonia, . She was of Albanian parentage and was the youngest of three children. Her family was a devoted catholic and generous family. They prayed every evening and went to church almost everyday.
The family's generosity, their care for the poor and the less fortunate made a great impact on the youngster. At the age of twelve, she felt strongly the call of God, realizing that her vocation was too aid the ones in need. She knew she had to be a missionary to spread the love of Christ.
She left her parent's home when she was eighteen and joined the Sisters of Loreto, an Irish community of nuns with missions in India. After a few months' training in Dublin she was sent to India, where on May 24, 1931, she took her initial vows as a nun and became Mother Teresa. From 1931 to 1948 she taught at St. Mary's High School in Calcutta, but in 1948 she received permission from her superiors to leave the convent school and devote herself to working among the poorest of the poor in the slums of Calcutta. She had no funds, but she still decided to start an open-air school for the children of the slums. Soon afterwards voluntary people started helping her in her work and financial aid was also given by others. It made it possible for her to extend the scope of her work.
On October 7, 1950, Mother Teresa started her own order, "The Missionaries of Charity", whose primary task is to love and care for those persons nobody was prepared to look after. In 1965 the Society became an International Religious Family by a decree of Pope Paul VI.
Today the order is active in many countries. The Society of Missionaries is spread all over the world, including the former Soviet Union and Eastern European countries. They give support and aid to the poorest of the poor in a number of countries in Asia, Africa, and Latin America, and they undertake relief work in the wake of natural catastrophes such as floods, epidemics, and famine, and for refugees. The order is also established in North America, Europe and Australia.
Mother Teresa's work has been recognised and acclaimed throughout the world and she received a number of awards and distinctions, including the Pope John XXIII Peace Prize (1971) and the Nehru Prize for her promotion of international peace and understanding (1972). She also received the Balzan Prize (1979) and the Templeton and Magsaysay awards.
Mother Teresa died on September 5, 1997, but her work and her life's philosophy carries on by the hands and deeds of her followers.
Adapted from: Nobel Lectures, Peace 1971-1980, Editor-in-Charge Tore Frängsmyr, Editor Irwin Abrams, World Scientific Publishing Co., Singapore, 1997
Interesting link:
http://edition.cnn.com/WORLD/9709/mother.teresa/
Some of Mother Teresa deeper, noble thoughts: makes you think...
"Be faithful in small things because it is in them that your strength lies"
"Everybody today seems to be in such a terrible rush, anxious for greater developments and greater riches and so on, so that children have very little time for their parents. Parents have very little time for each other, and in the home begins the disruption of peace of the world".
"Everytime you smile at someone, it is an action of love, a gift to that person, a beautiful thing".
"I am not sure exactly what heaven will be like, but I don't know that when we die and it comes time for God to judge us, he will NOT ask, How many good things have you done in your life?, rather he will ask, How much LOVE did you put into what you did?"
"I try to give to the poor people for love what the rich could get for money. No, I wouldn't touch a leper for a thousand pounds; yet I willingly cure him for the love of God. "
"Love is a fruit in season at all times, and within reach of every hand."
"Peace begins with a smile."
"People are unreasonable, illogical, and self-centered. Love them anyway."
Home page | Acknowledgements | Personality of January | Personality of December | Personality of November