Paula Rego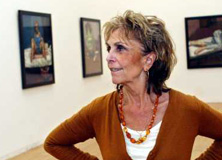 the Personality of November
Paula Figueiroa Rego, a Portuguese artist, born in Lisbon, in1935.
Paula started painting at an early age her teachers soon noticed her talent. She attended the St Julian's School, settled in the surrounding of the Portuguese capital, and decided later to set off to London, in 1952, to complete her education. She attended the Slade School of Arts, where she met her husband, Victor Willing, an artist too, whom she eventually married. The couple spent their time between London in England, untill Victor got sick and eventually died. After this dramatic event Paula decided to stay in London on a permanently basis.
Paula Rego has an unique style. Even though her early work was mainly based under the influence of Dubuffet - she made abstract collages -her recent work is strongly influenced by her childhood as well as by stories and fairy tales. Her imagination has always played an important role in her life and her work is a reflection of that. She paints reality in a very grotesque way and her paintings reflect a darker side of story they represent. She is truly a storyteller. "Her works belong to an expressive, non-literary tradition of storytelling, (...) providing an alternative voice that undercuts traditional modes of authority. The stories that she has inherited and personalised are often deeply embedded in our collective consciousness, and by subtly reworking their prevailing meanings she challenges our institutionalised values and moral codes" LINK
Paula rego is an extremely successful artist, both in the United Kingdom and Portugal, and also in the rest of the world. She was the first ever associate Artist of the National Gallery, in London in 1990.
There is a Paula Rego exhibition going on in Museu de Serralves, in Oporto. (from 15OCT04 till 23JAN05)
Here are some links with further information
http://www.instituto-camoes.pt/arquivos/artes/pregocultur.htm
http://www.instituto-camoes.pt/arquivos/artes/pregowomen.htm
http://www.instituto-camoes.pt/arquivos/artes/paularegoft.htm
Awards received by the Artist

1971 Sóquil

1984 TWSA Touring Exhibition, Newlyn Arts Centre, Penzance

1987 Benetton/Amadeo de Souza-Cardoso, Casa de Serralves, Porto

1989 Turner 89, London

1998 Bordalo da Casa da Imprensa 1997, Lisbon

1998 AICA'97, Lisbon

2001 Celpa/Vieira da Silva
Home page | Acknowledgements | Personality of January | Personality of December | Personality of November