2005
We must become the change we want to see.
Mahatma Gandhi

NewYear's Resolutions: setting goals for the New Year ahead of us.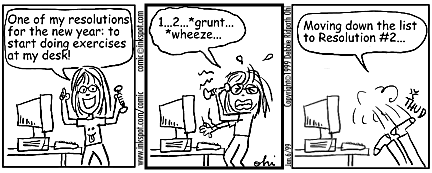 What will it bring us? What will humankind do to make it memorable? What will . . .
Another tradition of this season is to make one's New Year's resolutions. This tradition dates back to the early Babylonians. Popular modern resolutions might include the promise to lose weight or quit smoking. The early Babylonian's most popular resolution was to return borrowed farm equipment!
The word resolution comes from 'resolve' and means to make up one's mind about what one thinks he/she should and/or would like to do... Now at the start of a new year here's your chance to set goals you would like to achieve. Take some time to think about what you would like to change in your life and/or finally start doing and make the most of it in the year 2005. ... This might help you to fulfil some of your ambitions or dreams; things that you have been meaning to do but for some reason - laziness maybe :-) ! - you have been pushing aside. Who knows, you might even feel better about yourself. I sure will try to fulfil mine. Here is a list of what I intend to do in the Year 2005.
My New Year's Resolution list
eat less sugar;

jog more often;

restart Yoga classes;
Well now that it's public I really have to make a effort to keep up to my own expectations. This is a good motivation though! Do you want to publish yours too? It can work as a source of encouragement.... if yes click here.